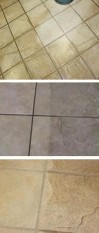 Hard surface cleaning
Why have your tile and grout professionally cleaned?

In addition to carpet, other floor coverings are gaining popularity in homes today. And, like carpet, these coverings take their fair share of traffic, spills, and abuse. For most, the old fashioned mop is the only means of cleaning ceramic tile and grout. But have you ever really gotten those grout lines clean this way? Sure, it might look better, but not like it did when it was brand new. Most mops simply spread the dirt and grime around because there is no extraction of the soiling with this method. Eventually the tile and grout begins to look darker. Household contaminants from the mop have been absorbed into the grout between the tile leaving it dull and dingy. Ever tried the toothbrush method? Talk about back-breaking! And you usually get the same results as mopping.
Fortunately, BMS Technologies now offers ceramic tile and grout cleaning for your home and office. Our trained technicians can restore your tile and grout to like new conditions. We use high pressure, agitations, and heat to immediately extract years of build up.
We apply premium grout and tile preconditioner and allow time for it to break down oils and soiling and agitate the grout and tile as needed. We then pressure clean and extract the tile and grout with our truck-mounted, hot water extraction unit. At the end, we vacuum up any excess water, move all furniture back in place, and review the cleaning with you. Normal drying time is 10-15 minutes.
There is no set rule as to how often tile should be cleaned. Frequency of cleaning varies due to the texture of the tile, the amount of foot traffic, whether the grout is sealed, the frequency of mopping, and the number of small children and pets. You are the best judge to determine whether or not your tile has lost its luster. We can even set you up on a routine cleaning schedule, cleaning every 6, 12, 18, or 24 months. We will call to remind you when it is time for your next cleaning.